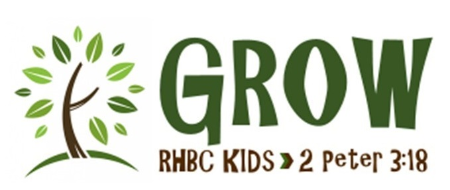 GROW Children's Ministry of RHBC exists to grow children in the knowledge of Jesus through the teachings of the bible. Children will be challenged to memorize scripture, develop a quiet time, worship through relative music and develop a personal relationship with Jesus Christ. Browse the links in the left menu bar for more information on our children's ministry.
Where can I send my kids?
Our goal in children and youth ministries at RHBC is to partner with parents to produce spiritually mature adults. We encourage everyone to attend an age appropriate Sunday School class and attend worship together. Nursery is provided for birth to toddler. We also offer Children's Church during the 11am service for 3&4 year olds that meet in room #411 and Kindergarten thru 3rd grade that meet in room #417/418. The K-3rd grade children are dismissed from the service and both groups can be picked up at each class after the service.